Celine Dion fans protest outside Rolling Stone office for being dropped from 'Greatest Singers' list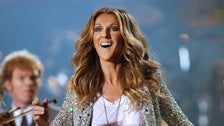 When Rolling Stone released its list of "The 200 Greatest Singers of All Time" at the beginning of the year, Celine Dion fans were shocked that she was not included in the ranking. On Friday, a dedicated group of Pagans converged on the magazine's New York City offices to protest.
The outlet covered the gathering itself and documented many of the slogans raised on protesters' signs. From "Justice for Celine" and "Rolling Stone Is Stoned" to "I Drove All Night to Be Here," the group — who call themselves the Red Heads — were eager to hear.
"Apparently, you made a big mistake by forgetting his name in the big list published last week," Founder Rekha Basbas told Rolling Stone, "We wanted to make sure you understand that you missed the best singer in the world. He should be the first name on your list.
A protester entered the building in an attempt to meet with Rolling Stone editor-in-chief Noah Schachtman and handed him a DVD listing the highlights of Dion's career. footage of the protest has since come down on the group's Instagram story,
This gesture of support went viral and many people on social media noted that it coincided with the two-year anniversary of the January 6 Capitol riot. Across the street, protesters at the New York Public Library were shouting for Attorney General Merrick Garland to charge those involved in the rebellion.
"Yeah, it's very important, the second protest, we believe in the second protest," French Canadian broadcaster Julie Snyder told Woldenberg. "But we think we can also protest with our heart and our song and that song can help people be better."
Dion, whose "My Heart Will Go On" and "It's All Coming Back to Me Now" remain iconic, was not the only legendary female artist to be dropped. Madonna was also released. However, Dion's absence was too egregious for the Red Heads, as they could not ignore it.


#Celine #Dion #fans #protest #Rolling #Stone #office #dropped #Greatest #Singers #list

Source link